---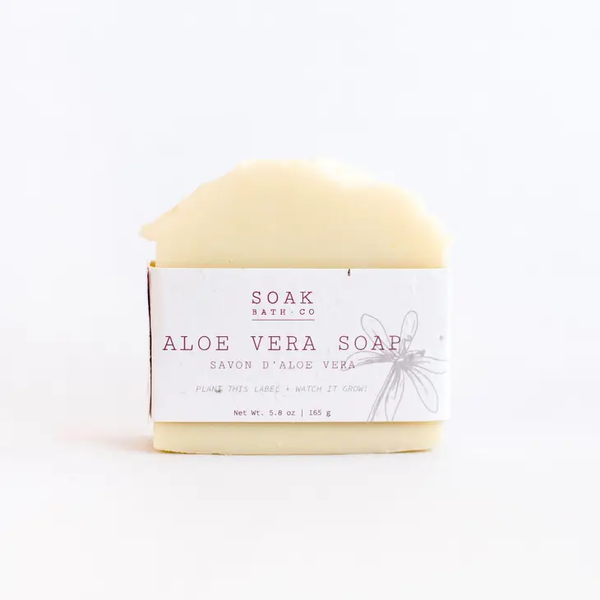 Aloe Vera Soap Bar
---
This soothing aloe vera soap bar is highly recommended for those with skin and scent sensitivities. The base of the bar is made with aloe vera extract to add additional nutrients to the skin and leave your skin feeling soft, smooth and rejuvenated.
Recommended as a facial bar, body bar and hand soap bar.
This gorgeous bar is completely zero waste and sustainable. The label on each SOAK Bath Co bar is made of biodegradable, plantable seed paper so you can plant the label and it will grow into wildflowers! Weighing in over 5 ounces per bar, each of these bars are larger than most you'll find on the market. 
Bar Care: When you're ready to use your bar, slice it into three separate pieces. Use one sliver at a time while keeping the other pieces dry. This will help lengthen the life of your bar. Grab a soap tray to help keep your bar at it's driest between uses and prevent it from sitting in a puddle of water. 
Ingredients: 
Aloe Vera Extract

Olive Oil

Water

Coconut Oil

Shea Butter

Avocado Oil

Castor Oil

Lye
---
More from this collection